Throughout history, failures or setbacks have often led creative people to discover something greater or better than the original plan. At the very least, valuable lessons were learned. Friday fudge is about creatives persevering past the obstacles, and finding delicious rewards for their tenacity and effort that they could never have imagined or hoped for in the first place.

It is impossible to live without failing at something, unless you live so cautiously that you might as well not have lived at all – in which case, you fail by default. – J.K Rowling
I've been thinking a lot about J.K. Rowling lately.
Just yesterday, it was announced in the media that her new book for the adult market, The Casual Vacancy will be published this September.
There were a few online posts I've read recently where the blogger was speculating on whether Rowling's move into writing adult fiction was going to be as successful as her career thus far as a YA fantasy author. It annoyed me how the authors of these blog posts seemed almost keen over the prospect of Rowling failing somehow,  how her new offering would probably not stand up to the same literary quality as the Potter series.
Rather than be full of admiration and eager anticipation cheering on a woman who follows the strength of her own convictions and creative inclinations (and chooses to experiment in a new, bold writing direction), some cynical people seem like they can hardly wait for the fall when they can post a wave of bad reviews of Rowling's new adult novel.
J.K. Rowling is no stranger to feeling like a failure. She turned her life around several years ago when she was at rock bottom – severely depressed, a single parent on welfare with no job prospects in sight.  Living a step away from being homeless.
She tells the moving story of how she climbed out of it in this awe-inspiring commencement address she delivered to the Harvard graduating class of 2008: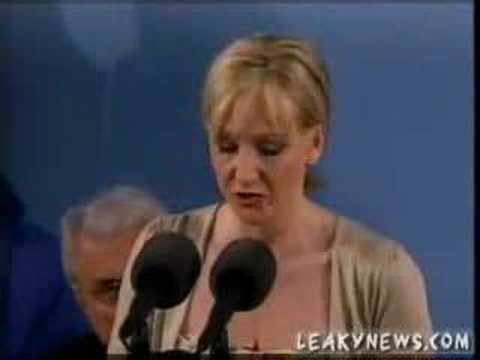 I love how she shares how her life turned around when she stopped pretending that she was anything other than what she was and re-directed her energy into finishing the manuscript for the first book in the Harry Potter series – the only work that mattered to her.
Then she persevered through twelve rejections from publishers! The 13th attempt yielded an acceptance letter, and the rest is literary and cinematic history.
I keep thinking recently about how much pressure Rowling must have been feeling over the past few years as she wrote this new work, how she is taking such a brave chance for the sake of art as she laboured and created day in, day out, until the book was done.
She had a choice to keep producing Harry books, or even other YA novels in the fantasy genre.
How many authors who achieve such fame and fortune would dare turn their creative career in a new direction, and risk harsh critical scrutiny, all because the muse led them there?
Of course, having experienced real hardship, of having nothing more to lose, and then succeeding so spectacularly would be more than adequate reinforcement to reassure any artist to step forward and take another creative gamble.  Granted Rowling is a billionaire this time around, so she no longer has to worry about providing a roof over her daughter's head!
Regardless of whether Rowling's adult fiction will be as well-received critically as her Potter series, this determined and gifted woman continues to serve as a great example of how to maintain our artistic integrity and be courageous and confident in completing our work, to venture creatively wherever our imagination and conviction directs us, no matter the risk.
What do you think about what Rowling says that it's impossible to truly live without failing at something? How has your 'creative failure' actually turned into a gift or given you direction or insight you never would have considered without experiencing it? Please feel free to share in the Comments.